Imagine waking up one morning to find that you've been mysteriously transformed into a homeless vagabond. It's hard to argue against the notion that such a predicament would be less than ideal, not to mention wholly undesirable! Now, consider this: though you are presently inexplicably dispossessed, you were a respected king less than twenty-four hours ago. So is Robin Bewilliam's plight in The Lost King — book one in the aptly-titled The Bewildering Adventures of King Bewilliam series. 
Coffee with Architects of Worlds Afar is pleased to introduce the author of The Lost King, Devorah Fox. Before we sit down with her, let's take a look at some of her books' covers.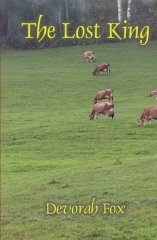 1. Do you recall the moment you first conceived the idea for your series? On a related note, how different is the final product (the books) from your original vision?
I began The Bewildering Adventures of King Bewilliam epic fantasy series by writing The Lost King. A friend had encountered several serious misfortunes in life. I wanted to see if I could make such a terrible fate end "happily ever after." It ended up taking four books to get such a beleaguered life back on track.
I didn't start with the intention of writing a series. But after The Lost King came out, readers asked when would the next book be released? The next book? As it turned out, King Bewilliam did have more to experience and I had more to write, thus came The King's Ransom, The King's Redress and The Redoubt.
I got the idea for my latest novel, a historical thriller entitled Detour, in 1993, and wrote the first chapter then. The story never quite left my consciousness. In 2014 I decided to get serious about finishing it. It launches in November, 2016.
2. Tell us a little bit about your books' titles.
I find titles hard to come up with, although The Lost King story came to me title and all. I had the title for Book Four, The Redoubt, before I had the story itself. I liked the word and wanted an excuse to use it. The title for Naked Came the Sharks, a thriller which I wrote with three other people, is a nod to another collaborative work that was published in 1969. I went through about four other titles before I settled on the one for my latest release, another thriller: Detour.
3. What does a typical writing session look like for you?
I have two typical writing sessions. I do some work during the day at my home office, writing straight onto the computer, listening to a Pandora station. Increasingly, though, I write in longhand on a lined yellow pad, crunched up on an old armchair in my living room, in the predawn hours and sometimes in the evening with the TV on for white noise.
4. How do you feel about outlines? Are you for or against them?
I'm more of a plotter than a panster. You might say I'm a "planster." I like to start with something of a road map, a general outline of where I think the story should go and what characters should be in it. However I don't make detailed chapter-by-chapter outlines. Once I've got the story rolling and some characters in place, I give the story its head. I do reach a point where I feel as though I'm not writing the story so much as I'm channeling it from some outside source.
I did try winging an entire novel during one National Novel Writing Month marathon, but found it too stressful to have a daily word count hanging over my head and no idea whatsoever about what to write. I'd rather give myself a little direction.
5. Any project in the works?
I plan to launch a detective story, The Zen Detective, in 2017. That was my National Novel Writing Month project for 2015. I'll be starting a new novel, another detective story, for National Novel Writing Month 2016 and hope to have it finished by the end of 2017. Working title: The Blood Avenger.
6. How long does it usually take you to write a book?
Since 2010, I have participated in National Novel Writing Month every year with only one exception. The goal of the marathon is to write 50,000 words in 30 days. Thus I get a good start on a rough draft of about sixty to seventy percent of a book in a month's time. I spend months finishing and revising it, though.
And now for a game of "Which Do/Would You Prefer?"
1. Dogs or cats?
Cats. I have two.
2. Summer or winter?
Winter. It's great writing (and reading) weather.
3. Ebook or physical book?
Physical book, although my books are in both formats.
4. Nights out or nights in?
Nights in. I'm a morning lark, not a night owl.
5. Having telepathy or having telekinesis?
Telepathy. Think how helpful that would be during Internet outages.
6. Being able to travel to the past or being able to travel to the future?
Travel to the future. With all the time that I spend researching history for my novels, I might as well travel to the past, but I'm very much a modern gal.
7. Making a phone call or sending a text?
Sending a text. I hate using the phone.
8. Travelling by car or travelling by airplane?
Car.
9. Staying in a hotel or going camping?
Hotel. A room without room service is my idea of camping.
10. Being able to speak and understand every language known to humankind or being able to speak and understand every language known to animals?
Ooo, animal language. I already know quite a few languages spoken by humans.
11. Going without internet access for a week or going without watching any movies/television shows for a week?
I'll give up movies and TV. I can't go five minutes without the Internet.
12. Having your car break down on an extremely busy expressway or along an abandoned road in the middle of nowhere?
I'll take the expressway.
13. Losing your ability to speak or losing your ability to hear?
I'll give up speaking. 'Cause I can still write, right?
14. Spending half a day locked in a coffin (there would be a hole for air, of course) or spending two days trapped at the bottom of a well?
I'll take the coffin. Maybe I could catch a nap!
15. To never again eat a piece of chocolate or to never again drink a cup of coffee?
Waaaahh!
Thank you for joining us, Devorah!
Readers: want to connect with Devorah? You can find her on Twitter, Goodreads, Facebook, and YouTube. Also, be sure to check out her blog.