The Treason Game hit shelves just a few weeks ago. Coffee with Architects of Worlds Afar is thrilled to welcome its author, Viv Doyle. Before we get to the actual interview, let's take a moment to familiarize ourselves with the aforementioned novel's storyline.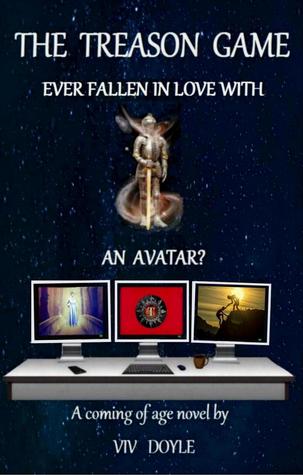 The Treason Game tells the story of Lina, who is infatuated with Tyler, a handsome medieval knight avatar in her favourite MRPG. She wants to be a games artist and gets an internship at MediaCity UK, where the boss, Aron Taylor, bears an uncanny resemblance to her fantasy lover. He worked on The Treason Game in the US, so Lina is convinced he is the man behind Tyler. But the road to adulthood is a bumpy ride for Lina, with a repressive, religious mother who hates video games and her best friend coming out as gay, not to mention her fantasies about her boss-cum-avatar. Everything comes to a head when she goes with the team to the Paris Games Week.
1. Tell us a little bit about yourself.
I live in England, and was brought up in South London. I now live in a small town in the Peak District, near Manchester. My partner is a modern jazz violinist. I have been a teacher of English to 16 – 18 year-olds, but I gave it up to write full time. I sold hundreds of short stories and articles to various magazines, just to make ends meet, while I was working on novels. I also worked as a writing tutor, both for a correspondence college and on my own account. The eBook revolution has encouraged me to continue writing novels, now that I know I can publish my own works.
When I'm not writing I love walking in the rugged and varied countryside near where I live with my friends, and I usually video the walks for everyone to enjoy in retrospect. I also play piano and guitar, attend a French class and belong to a choir.
2. Do you recall the moment you first conceived the idea for The Treason Game?
I've been playing computer games for a long time and my experience of online multi-player gaming led to the idea for my latest novel, The Treason Game. I found the idea that you knew nothing about your fellow-players rather exciting: were they male or female, young or old, where did they live, what did they look like?
This mystery aspect led me to invent a story about a young woman who fell in love with someone else's game avatar. I soon had the idea that my heroine wanted to be a game artist. It was easy, then, to link her love of playing The Treason Game to her career. Once I'd decided that the boss of the studio where she gets an internship should have a name very similar to the avatar she is besotted with, and look like him too, a plot evolved.
3. How did you arrive at your book's title?
It was fun inventing an online medieval fantasy game for the book. Lina's avatar is called Bella, and the handsome knight, Tyler, helps her when she is in danger. I wanted the book's title to be the same as that of the game in the book, and I played with a few ideas before deciding on The Treason Game. This fits, because the fictional game is about Bella and her sister escaping from a King's court, which counts as treason. There seems to be a bit of a Game of Thrones overlap, but it's hard to find a title these days that doesn't resemble something else online. Fortunately there is no copyright in titles.
4. Does your story have a moral?
If my story has a message it is that people should have the courage to follow their own  path in life and not be deterred by others. Lina has to rebel against her mother to become a game artist. My book touches on several themes that older teens may encounter as they become adults. Lina has to move from being infatuated with a fantasy heartthrob to loving a real man. She also thinks a lot about religion, since her mother is strictly religious with a narrow view of life, e.g. she thinks computer games are the Devil's work. Then Lina's best friend realises she prefers to love women, and Lina feels left out when she gets a female partner. A colleague of Lina's has a younger brother with Asperger's syndrome, and I tried to portray this character as authentically as I could.
5. Using five words or less, describe the protagonist in The Treason Game.
Lina, my protagonist in The Treason Game, is both passionate and thoughtful, talented and determined, but she lacks confidence due to her repressive mother and is something of a loner.
6. What does a typical writing session look like for you?
My writing life fits in around other activities, but I always write at my computer in my study and at any time of day or night. Music would be too much of a distraction! I have been known to make notes about writing, particularly on long train journeys when ideas come to me, but I can't do the main work of writing anywhere else but my own room. I have never set myself a daily word count. I write until a natural break arises. I always provide a chapter-by-chapter outline but never plan down to the last detail and like to remain flexible. I took about three months to write The Treason Game once I'd done the necessary research, and this is about average for me.
7. How do you feel about outlines? Are you for or against them?
I've always enjoyed researching for my stories. It was a thrill to attend a couple of games conventions while I was writing The Treason Game, and meeting some gamers in real life, who were very encouraging. I made a video of PlayExpo which gave me some useful reference material.
8. What is your favorite book genre?
I enjoy reading in a very wide range of genres, from science fiction and fantasy to romance. I also enjoy non-fiction – biographies, popular science, history, etc. I have written in different genres too, but found crime fiction the hardest to master. Loved writing historicals.
9. What are you currently reading?
I always have a pile of to-be-read books by my bed! I'm currently reading the original 1943 edition of the short stories of Dorothy Parker, printed on thin wartime paper. I bought this because it was mentioned in the diary of a family member who served in the Navy in WW2. It is touching to think I am reading exactly the same book today as he did when on board his ship in the Pacific, and the book is very entertaining too.
10. Of those that you've authored, which is your favorite book?
I can't possibly single out one favorite book but I loved doing the research for my book of literary parodies, called Literary Mysteries Solved. This collection includes parodies of such revered classics as Pride and Prejudice, The Great Gatsby, The Hobbit, Hamlet, Jane Eyre, Lord of the Flies and The Christmas Carol. They are mostly books I read at school or college, and to modern readers they might seem very old-fashioned, but because each has a very distinctive style and voice they were easy to parody and I hope readers can see that I did so with real affection for the originals.
11. In your opinion, what makes a story 'good'?
I believe a good story emerges when the author cares for, and understands, the characters they create and the plot arises from their personalities. When characters seem to be at the service of the plot I start to yawn. So my advice would be to start from the situation your characters find themselves in, and let the story develop from there.
And now for a game of "Which Do/Would You Prefer?"
1. Working in a group or working alone?
It depends what the project is, but I usually prefer working alone, especially if it involves writing. When I did a course on script writing I was not good at working in a team as I found it frustrating to have to develop other people's ideas rather than my own.
2. To find true love or to win the lottery?
For me, finding true love IS winning the lottery. I feel very fortunate that my guy has stuck with me for many years despite all kinds of difficulties.
3. Being Spider-Man for a day or being Batman for a day?
I love all comic characters, but I think I would prefer to be Spider Man. Just watched a news film about a five-year-old Syrian refugee boy who said he feels strong when he wears his Spider Man costume, and he made sure he kept it safe when he escaped from the war. I was in pieces!
4. Being able to speak and understand every language known to humankind or being able to speak and understand every language known to animals?
I would love to be Dr Dolittle and speak the languages of animals. I once learnt a few bird calls and had the thrill of hearing them answer back to me!
5. Going without internet access for a week or going without watching any movies/television shows for a week?
If the internet was down for a week I would read a good book! I guess I might miss TV shows more though.
6. To never speak again or to never eat solid food again?
I do love food, so to have to eat pap would be a real trial, but I can do without speaking myself, so long as I could hear others. It would force you to write messages, and prioritise your wants. Sadly, many elderly people in care have to cope with both – unappetising food and impaired communication.
7. Staying awake for forty-eight hours (continuous) or walking for twenty-four hours (also continuous)?
I would rather walk a marathon than stay awake for 48 hours.
8. Drinking a glass of expired, curdled milk or eating a bowl of cold, slimy worms? (Note: the worms would be dead, though not cooked.)
I'm sure I've drunk curdled milk in my time, so that would not be a problem.
9. Finding yourself caught in the middle of a hurricane or finding yourself caught in the middle of a snowstorm? (Note: in both scenarios, you'd be outdoors and have no access to shelter.)
Never been in a hurricane, but I have been in a snowstorm (in Iceland). I think I could bear the cold more than the wind. I go walking in all weathers.
10. Misunderstanding everything that is told to you or being misunderstood every time that you speak?
I think misunderstanding what is said to you could be very dangerous, e.g. 'Run, there's a mad elephant on the loose!' whereas someone else misunderstanding me might not be, as you could always mime (e.g. hand over mouth, finger across throat for 'If I eat this I will die!') Gestures and facial expressions can go a long way in communication, so we should not over-value words.
11. To never again eat a piece of chocolate or to never again drink a cup of coffee?
I could go without either chocolate or coffee, as I regard both as a treat rather than a necessity and have given both up without a problem from time to time.
12. Spending half a day locked in a coffin (there would be a hole for air, of course) or spending two days trapped at the bottom of a well?
Being locked in a coffin for a while would be claustrophobic, but you could close your eyes and as soon as the lid was lifted you'd be out. Being stuck down a well would be damp, smelly and cold and equally claustrophobic – seeing the sky above might only make it worse. It would also be a struggle to get out of. I had to confront the coffin issue whilst writing a vampire novel, which despite the grisliness of the content I really enjoyed.
13. Have every day be Saturday or have every day be [insert your favorite holiday here]?
When I gave up teaching for writing every day was like Saturday, or Sunday. I could take a holiday or make a trip whenever I liked. Nowadays I am so busy with all kinds of activities during the week that I have my weekends back again.
14. Being two inches tall or being two stories tall?
I would rather be minuscule than gigantic, I think. We are back in the realm of my literary parodies here, as I explored the theme of body dysmorphia in my spoof critical essay entitled: The Long and the Short of it: The Influence of Gulliver's Travels on Alice in Wonderland and the Magic Faraway Tree.
15. Finding yourself trapped in the universe of The Walking Dead or finding yourself trapped in a slasher film?
I'm generally too scared to watch horror movies of any kind but I think I could cope with zombies more than slashers. I once ran screaming from the cinema whilst watching Hitchcock's 'Psycho' which probably seems very tame nowadays. It comes of having too vivid an imagination – probably because my Grandma used to delight in telling me frightening stories when I was a kid.
Thank you for joining us, Viv!
Readers: want to connect with Viv? You can find her on Facebook. Also, be sure to check out her blog. To get your hands on a copy of The Treason Game, click here.