Is your child currently learning how to speak? Do they struggle to properly pronounce certain sounds? If so, you're in for quite a treat! The Talking Tales series is a set of books which aims to assist children in their speech development, and Coffee with Architects of Worlds Afar has the privilege of hosting its author today.
(More information about the individual books in Erica Graham's Talking Tales series can be found at the end of this interview.)
1. Tell us a little bit about yourself.
My name is Erica Graham and I am the author of the children's book series "Talking Tales".
I graduated from Southern Illinois University of Edwardsville with my Master of Science Degree in Speech Language Pathology. I also hold my Certificate of Clinical Competence with the American Speech-Language Hearing Association. In addition to being a speech-language pathologist, I am married and have two very loving and energetic young children. As a mother, I understand the difficulty caregivers have finding time to work on speech with their children. This was the inspiration that began my journey as a children's book author and illustrator. In my pursuit to create a fun and easy way for therapists, children, and their caregivers to enhance speech development while promoting literacy, I have written a series of exciting children's books. Each book focuses on a core sound used in the English language.
Outside of writing and working as a Speech Language Pathologist, I enjoy spending time outdoors with my husband and daughters, volunteering with the youth group at church, and a good cup of tea.
2. Why did you start writing?
I have always written for personal enjoyment. However, I recently wrote and published my children's books to create a way for caregivers and therapists to promote speech development and literacy skills.
3. Do you recall the moment you first conceived the idea for your series?
When children are learning to speak, they first observe how words sound. This helps them develop an understanding of speech sounds as they learn to talk. Many times when we are working on encouraging speech development or correcting speech sounds, speech-language pathologists will use word lists. However, many parents report difficulty finding time or getting their children to attend to word lists at home. I wanted combine my knowledge as a speech-language pathologist with my love for writing to create a fun way for children and their caregivers to work on speech development and promote literacy. I also wanted to ensure that these books contained fun story lines that could be enjoyed by children who are not working on their speech. Each book targets a specific speech sound in the English language.
4. What does a typical writing session look like for you?
I always start a writing session with a quiet table and a hot cup of tea. Quiet can be difficult with two little ones so I normally write late at night. My oldest child loves to draw and is very excited when I illustrate. I often complete my illustrations when the youngest is napping so my oldest and I can draw and share our masterpieces with each other.
5. Any project in the works?
I am currently working on the fourth children's book in my Talking Tales series that I hope to release in the early half of 2017. Feel free to follow me on Facebook, Goodreads, or Amazon for more information as the release date nears.
6. What advice would you give to aspiring writers?
As a new author I do not feel that my advice is necessarily as valuable as more experienced authors, but I do have many aspiring writers who occasionally ask me for it anyway. The biggest fear that many new authors have is the fear of how others will respond to their books, or even worse, not respond at all. I can completely relate to this fear. In fact, this was the biggest hurdle that I had to overcome when releasing my books. My advice to new authors is this. It is scary to not have a firm knowledge of how your books will be received, but it is even scarier to never discover what they could be and who they could reach. Keep writing!
And now for a game of "Which Do/Would You Prefer?"
1. Books or movies?
Books
2. Dogs or cats?
Cats
3. Summer or winter?
Can I choose fall? No? OK…summer.
4. Cake or ice-cream?
Ice-cream
5. Car or motorcycle?
Car, but I do enjoy dirt bikes.
6. Ebook or physical book?
Nothing beats the feel and smell of a physical book.
7. Having telepathy or having telekinesis?
Telekinesis
8. Being able to travel to the past or being able to travel to the future?
The past
9. To find true love or to win the lottery?
True love
10. Being Spider-Man for a day or being Batman for a day?
Batman
11. Having your car break down on an extremely busy expressway or along an abandoned road in the middle of nowhere?
Depends…is it raining? If so, and I am on an abandoned road, then I am probably in the beginning of a horror story so I would pick expressway.
12. To never speak again or to never eat solid food again?
Solid food
13. Misunderstanding everything that is told to you or being misunderstood every time that you speak?
Being misunderstood every time that I speak.
14. To never again eat a piece of chocolate or to never again drink a cup of coffee?
Not my chocolate! I choose coffee.
15. Being two inches tall or being two stories tall?
Two inches tall
Thank you for joining us, Erica!
Readers: want to connect with Erica? You can find her on Goodreads and Facebook.
BOOKS IN THE TALKING TALES SERIES:
Talking Tales: The Bright Red Tricycle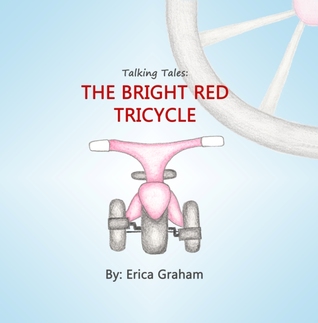 The bright red tricycle loves spending every day riding around with his boy Ryan. But when Ryan's dad brings home a new bicycle, the little red tricycle quickly finds himself on an unknown journey. Will the little red tricycle ever be ridden by Ryan again, or is he destined to rust away in a scrap yard? This story is a great tool for any parent or speech therapist. It explores the tale of the bright red tricycle while providing over 80 examples of the "r" sound in various word locations and blends to increase speech development. This book also includes tips for parents who are working with their child's speech at home.
Where to purchase: Amazon
Amazon ASIN: 0997855525
ISBN: 978-0997855524
---
Talking Tales: Cricket's Guitar
When Teri hears a small voice calling her, she never would have guessed who she would meet…a cricket! But not just any cricket. This cricket has a guitar. He is hoping that Teri can help him replace a broken string on his guitar. Will Teri's creative thinking be able to help cricket, or will cricket never play his guitar again? This engaging story is a great tool for any parent or speech therapist. It provides over 80 examples of the "t" sound in various word locations to increase speech development. This book also includes tips for parents who are working with their child's speech at home.
Where to purchase: Amazon
Amazon ASIN: 0997855509
ISBN: 978-0997855500
---
Taking Tales: Sam's Sticky Sucker
Sam has dreamed all night about his strawberry sucker. When morning arrives, he is unable to resist sneaking downstairs to eat his sucker before breakfast. But when mom comes toward the room and Sam is forced to run back to bed, he loses track of his sticky strawberry sucker. Now where could that sticky strawberry sucker have gone? Will Sam find the sucker before his mom? This funny story is a great tool for any parent or speech therapist. It provides over 170 examples of the "s" sound in various word locations and blends to increase speech development. This book also includes tips for parents who are working with their child's speech at home.
Where to purchase: Amazon
Amazon ASIN: 0997855517
ISBN: 978-0997855517